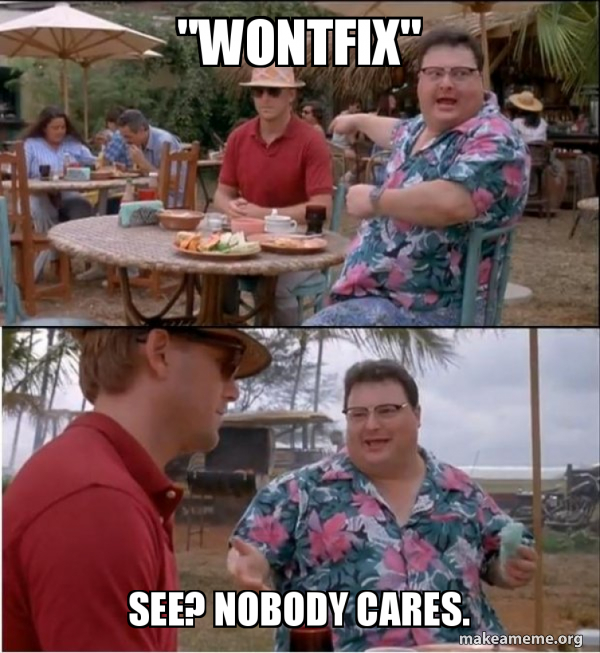 Town Hall #12: WONTFIX
Subscribe to Taylor's Town Hall via email.
P.S. If you want to hear what my voice sounds like, check out my recent Changelog interview!
Guess what? You can slap a WONTFIX on b*llshit whenever you want.
"I should text that dude that I met in SF. But I don't need more friends right now. WONTFIX."
"I should finish the project I started. But I'm bored of it. WONTFIX."
"I should go to my grandma's birthday party. But she's not particularly fond of me. WONTFIX."
Learn to say "no". Set boundaries. Deny obligations. Dismiss friends and conventions and dreams and expectations. If somebody demands too much of you, you can WONTFIX that entire relationship out of existence.
Your time is scarce; nobody can guard it but you.
But don't stop there! Protect your time from yourself. Don't squander your life on sidequests.
Consider your to-do lists, wish lists, bucket lists, etc. – what tasks will matter in 5 weeks? 5 months? 5 years?
Do things that matter.
What would be wonderful?
Projects
Writings
Recommendations
You can also scour my entire history of book reviews, album ratings, and active podcasts. You may also want to read about my rating system.
Music
| | |
| --- | --- |
| ★★★★★ | JPEGMAFIA & Danny Brown :: SCARING THE HOES |
| ★★★☆☆ | Simon & Garfunkel :: Sounds Of Silence |
| ★★★☆☆ | Pinback :: Autumn of the Seraphs |
| ★★★☆☆ | Home Is Where :: I Became Birds - EP |
| ★★☆☆☆ | Brett Dennen :: So Much More |
Books
★★☆☆☆ Kafka on the Shore by Haruki Murakami :: I totally get that this book is subtle and clever, but sorry, it didn't really make feel anything. And the sheer volume of media references made me feel like I was reading Ready Player One for self-aggrandized Mensa members. The 19-year-old-philosophy-student-sex-scene from Kafka on the Shore embodies much of Murakami: pretentious, captivating, and horny.
★★★★☆ A Man Called Ove by Fredrik Backman :: Heart-warming dark comedy about a grumpy old man who wants to die.
★★★★☆ Paper Menagerie by Ken Liu :: Great short story collection exploring China, technology, and the power of words.
Videos